Home :: News & Information :: In The News
In The News
UCC CEO Norman Murray Presents at ISCHP 2013
and NHLA's Chinese Lumber Grading School:
Patriotic Poster Project Kicks Off on Local News:
PATRIOTIC POSTER PROJECT TO SUPPORT VETERANS' ORGANIZATIONS
U-C Coatings employees have been packaging posters for mailing, kicking off a project to benefit servicemen & women -- past and present.
The poster, titled "Vigilance and Sacrifice", was designed by U-C Coatings to capture the strength of the American spirit in the face of attacks on freedom and democracy. Inspired by our nation's enduring resolve in the aftermath of the 9/11 attacks on the World Trade Center and the Pentagon, the poster was originally created for use within the company.
"We decided to share it with a wider audience, and donate a portion of any proceeds to veterans support organizations," said Norm Murray, U-C Coatings CEO. "It reminds us that Vigilance and Sacrifice truly do make up the fabric of American character and determination".
$5.00 from each poster sold will be donated: $1.00 will go to each of these five organizations:
Disabled American Veterans (DAV)
Special Operations Warrior Foundation
TAPS (Tragedy Assistance Program for Survivors)
Homes For Our Troops
Injured Marine Semper Fi Fund
In addition, U-C Coatings will send a poster, at no charge, to APO and FPO addresses (U.S. Armed Forces personnel serving overseas) to the first 5000 individuals to request it.
Requests can be made by e-mailing UCC at V&S@uccoatings.com.
The unmounted poster is available for purchase online at www.uccoatings.com for $16.95 each, including shipping. click here for photo and more info
National Hardwood Magazine
May 2011 Cover Story: U•C Coatings Corporation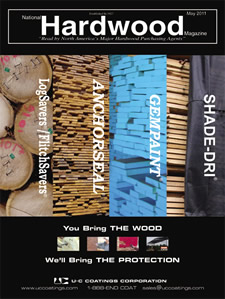 Conserve and enhance the value of North American hardwoods – this has been the focus of U•C Coatings Corporation for over 30 years. Starting in 1981 with ANCHORSEAL®, the industry standard for log and lumber end sealer, U•C Coatings has developed new products over the years to provide additional value to hardwood producers.
LogSavers® and FlitchSavers® are the innovative plastic stitches that are used instead of s-irons for holding splits in logs – no iron stains, no damage to saws or slicing equipment. Shade-Dri, mesh shade cloth, protects logs and lumber from the elements and can be used for simple covers or entire shade structures. GEMPAINT® and GEMPAINT*PLUS®, water-based paints for dry lumber, visually enhance hardwood lumber bundles for strong branding and a quality image in the marketplace.
A family-owned business, U•C Coatings works hard to listen and understand customers' needs. From office staff to research to production to sales, everyone gives the utmost to deliver the best products and service to our customers. Put our team to work for you. For more information, visit www.uccoatings.com. "You Bring THE WOOD, We'll Bring THE PROTECTION".
Great Lakes Timber Producers Association